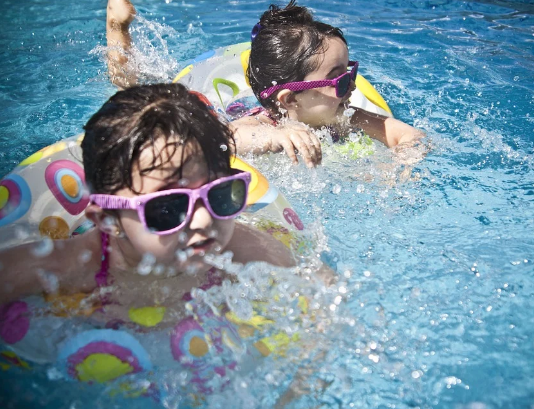 Children need to enjoy fun physical activity. Healthy children run, play, and jump for at least an hour a day. Today many children spend too much sedentary time in front of screens. The technology used for the classroom might result in unhealthy habits. Instead, encourage your family to be physically active with healthy lifestyle habits and fun exercises for kids.
The Importance of Family Fun
Your children want to be with you. When you engage in fun family activities with your children, together you get healthy and build happy memories. There are many fun exercises for kids that you can enjoy with your children. Try some of these fun ideas:
Go on a family hike together
Enjoy swimming in the pool
Play a game of tag, soccer, or hide-n-seek together
Enjoy a family bike ride
Create an obstacle course in your own backyard
Go for a walk around the city
Play sports together
Enjoy a playground
Try an online exercise class
Yoga together
No matter the activity, be sure that you choose age-appropriate exercise. For example, a toddler may not know how to swim. A teen may prefer one-on-one bike rides instead of biking with younger siblings. Ask your children to be a part of the decision making process.
Healthy Lifestyle Tips
Creating a healthy lifestyle for your family takes some effort. After months of staying indoors getting active may be difficult. Try these simple tips to help create healthy living and exercise in your home:
Make a list of physical activities together with your children
Try to exercise with your kids and encourage socialization when exercising
Be the role model they need
Avoid too much screen time for the whole family
Turn the TV off
Schedule time to exercise
Maintain healthy eating habits
Keep the environment safe for all ages
Choose developmentally appropriate activities
Talk with your pediatrician if you have any concerns or have a child with special needs for more individual recommendations
At Kids Fun City we are dedicated to providing the best family indoor entertainment center for you and your family. With an exciting indoor playground, arcade games, birthday parties, delicious food, and more, Kids Fun City is the premier kid's entertainment destination in Toronto.