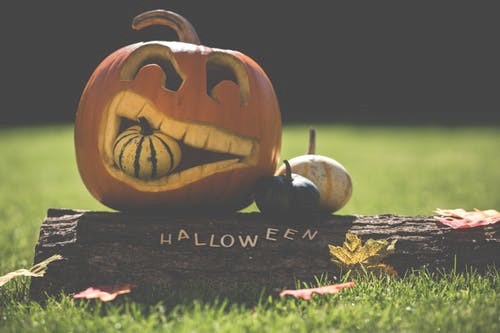 Walking door-to-door collecting candy from neighbors has been a favorite kid activity for generations. In today's world, however, it's not always an option for some families. And this often creates to need for parents to start their own traditions to keep the kids entertained, safe, and happy on Halloween. If this sounds like your family, here are four fun trick-or-treating alternatives to help show your kids a scary good time this Halloween.
Plan a Scary Movie Marathon
Transform your living room into a spooky dungeon with black lights and spider webs.  This will get everyone in the Halloween spirit and ready to watch goblins and ghouls on the television.  But with so many great spooky flics out there, which ones should you watch?  Let each of the kids choose their personal favorite Halloween movie, and watch them all in one night. In between the films, or when the kids are getting restless, you can mix things up by having everyone help in the kitchen to make delicious holiday treats. Don't forget to have everyone in costume!
Host Your Own Halloween Bash
Chances are, you're not the only family on the block whose looking for a fun alternative to trick or treating. Why not invite the other families to join you for a neighborhood Halloween party? The kids will have a blast showing off their costumes while staying entertained with themed games and crafts.  Plus, the parents can enjoy the evening knowing their children are safe and healthy. This is a great way to strengthen community ties and make some great memories.
Check Out Your Community Events
With so many people searching for family-friendly activities, many towns and cities are now offering Halloween events of their own. Typical activities include costume contests, bobbing for apples, puppy parades, and lots more. You can often find these events at city parks or municipal buildings. A lot of fire departments and police stations will also host events for the kids. If you're lucky, maybe your little one will get the chance to climb on board a real fire truck!
Mini Pumpkin Hunt
If your kids love crafts and games, then you'll love this idea. Grab some miniature pumpkins from your local market along with paint, googly eyes, pipe cleaners, and anything else you can think of. The kids will love the chance to decorate their very own pumpkins. Once they're done, hide the pumpkins all around the house or yard – or both! Then set the kiddos off to find them.  Think of it as Autumn's version of an Easter egg hunt.  Perhaps there can even be a "golden pumpkin" hidden somewhere with a special prize for whoever finds it.
Expert tip:  You might want to do the pumpkin decorating a day or two before Halloween to make sure the paint is dry prior to hiding the pumpkins.