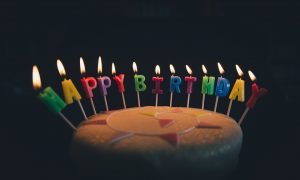 It's nearly summer!  Almost time for warm weather and picnics, for school to be out and for vacation to begin!
I'm a summer birthday myself, and that was always bit awkward when I was in school; family trips and summer vacations meant that it was more difficult to get large parties together for my birthday.  That being said, we always managed – and one of the advantages of a summer birthday is the fact that great weather and time off can mean a larger scale for a celebration!  Here are a few great ideas for a big summer birthday bash.
Outdoor Movies
If you've ever been to a movie in the park, or a drive-in theater, you know that an outdoor movie is a fun and exciting activity.  You don't need to own a massive theater to replicate that at home – just a flat, neutral-colored wall (or a sheet pinned to a wall to provide a surface) and a cheap projector can turn your backyard into movie central!  Or, if you don't want to splurge on a projector, simply moving the TV outside can provide much the same effect.  With some lights, candles, and snacks, it's an exciting experience.
Ice Cream Bar
Summer is hot, and the best treat when it's hot is ice cream!  Setting up your own ice cream parlor is a great idea for a summer birthday.  Make sure you have a variety of flavors, as well as sprinkes and other toppings.  This theme can be as big or as small as you like – it could just be a table with choices of ice cream, or you could expand it out into a mini-ice cream parlor, with bunting and decorations and everything.  You could even make your own ice cream, which can be a fun activity everyone can get involved in.
A Trip to Kids Fun City
Kids Fun City offers a range of options for birthday parties.  We offer private facility rentals, allowing you to have exclusive use of the entire facility for a private party, or we have semi-private parties, where you can rent a private room for the party itself while still having access to all of our games and attractions.  From mini-golf to Lazer Frenzy to our indoor playground itself, Kids Fun City is the perfect place for a birthday bash!