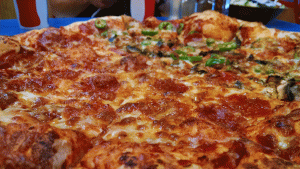 Whether it's a birthday party, a summer celebration or a sleepover with a bunch of friends, food takes a party to the next level!  Kids can be picky at times, and finding the right thing for a whole kit and caboodle can be a challenging task.  Here's some of the best food options for a major party:
Pizza
Of course the top option was going to be pizza.  Very, very few kids don't enjoy at least some kind of pizza, and the wide variety of toppings available means finding options to match any dietary restrictions and preferences to be a snap.  Plus, it's easy to pick up, eat and go – getting them back to playing as quickly as possible.
Sandwiches
For a slightly healthier pick-up-and-go snack, sandwiches are a great option.  Like pizza, there's almost no limit to the different varieties and styles of sandwich possible, making them a good option for a wide variety of tastes.  It's also easy to subdivide sandwiches into smaller halves – that way, kids can eat exactly how many they feel hungry for, and there's less food waste at the end of the day.
Snacks
If you're bypassing a full meal but still want something for kids to eat, healthy snacks are a great option.  Carrot sticks and celery are great munchies, with or without some dip.  Crackers, cheese, potato chips, popcorn – the ideas are limitless!
Cupcakes
If there's no major cake as part of a party, cupcakes are a great dessert.  They're easier to handle than cutting a cake; there's no fighting over sizes or portions or how big or small a slice should be.  It's less messy, easier to handle and, again, can come in a wide variety of flavors.  Why have just one type of cake when you can have three or four different types of cupcake?