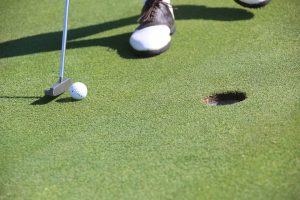 Summer is a great time to hold a corporate party.  It allows your employees to interact in a low-pressure, non-professional environment, build teamwork and comradery and generally improve morale.
Barbeques and picnics are great ideas, as is renting a facility like Kids Fun City if you're looking for a family-oriented celebration.  Of course, the food is only one aspect of any party – if you're looking for a big, family-friendly event, you'll want to have some sort of activities or games for people to participate in.  Games that encourage teamwork and creativity are great choices – here are a few time-tested standards.
Outdoor Activities
If you hold your event in a large enough outdoor space, you can hold large outdoor activities so all of your employees can participate.  Events like paintball or miniature golf are fun and competitive, and a great way to get people active and engaged.  A dunk tank is another great idea for outdoor parties – it's a chance for employees to dunk their boss, which always seems to go over very well.
Charades
Charades is a time-honored party game that is a great fit if your employees tend towards the more goofy, outgoing side.  It's a chance for employees to rely on their creativity to act out different clues, and is a great idea for small or moderate-sized gatherings.
Team Challenges
If you have logical groups of employees – say, employees from different departments or different workgroups of some kind – then a fun challenge between them can be a way to build inter-departmental spirit.  Tug-of-war, a relay race, a scavenger hunt, a trivia contest – there are plenty of options to choose from, and you're limited only by your creativity!
Kids Fun City is a great venue for your next family-friendly corporate event.  With mini-golf, an indoor playground and interactive arcade experiences, it can be fun for children of all ages.  Check us out for your next event!