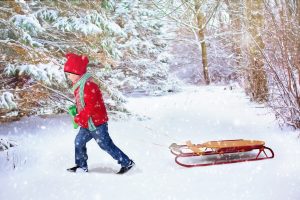 Snowy days can be a real bore at times.  While playing in the snow can be fun and exciting, it's much less enjoyable when it's actively snowing.  It does limit the number of activities you and your kids can do.
But that doesn't mean there are no great things to do when the weather outside is frightful!  Here are some of our favorite snowy day suggestions:
A Trip to Kids Fun City
When the snow is thick and deep, it can be hard for kids to run around and get good physical entertainment.  That's where an indoor playground like Kids Fun City comes in handy – a great place to get out of the house and enjoy, no matter what the weather has in store.  Our playground is a great place for kids to blow off excess energy and get good exercise, all while having fun!
Marshmallows and Hot Chocolate
Nothing better on a cold winter's day than coming back inside for a nice warm drink and some snacks!  In fact, make a day of it – kids love getting involved with what they eat, so turning snack-making into a group activity is a great way to spend a day!  Prepare something nice and warm – cookies are an all-time favorite – and then go play outside while they bake.  When you come back inside, you'll have fresh, warm snacks!
Board Games
Whether it's an all-time classic like Candy Land or Chutes and Ladders, or a more modern game like Cartoona or Unicorns in the Clouds, a board game is a great way to spend a snowy, blustery day.  It's a more group-friendly experience than just playing on a tablet or the internet.  It's an activity that can include the entire family, which is always worth treasuring.