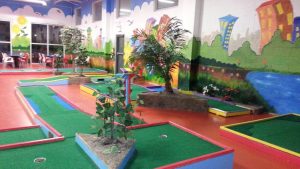 Family nights are a great way for families to bond together and have a great time in each other's company.  It does seem, however, that many people's idea of family time revolves around TV – or, in a pinch, going to see a movie.  While there's nothing wrong with these activities per se, it can be more fun at times to do something special; to book an experience that people don't do on their own all that often.  Here are some great possible ideas for fun family events that allow you to turn off the television.
Mini-Golf
We have a great indoor mini golf course here at Kids Fun City in addition to our fantastic indoor playground and arcade games.  There aren't any special skills required to enjoy it; just the ability to hold a lightweight golf club.  That makes it a perfect activity for kids of almost any age!
Easy Snack Cooking
Turn snack time into family time by having the whole family chip in with simple treats!  Cookies are a time-tested favorite, and kids enjoy shaping the dough into balls before baking or adding sprinkles and other toppings.  Chocolate-dipped pretzels or bananas are another easy treat to do, as are marshmallow treats.  There are plenty of online recipes to choose from!
Arts and Crafts
Arts and crafts for kids can be a fun activity for adults, too.  There are plenty of sites out there with tons of easy, kid-friendly craft ideas.  From beaded necklaces to creating holiday decorations, the possibilities are nearly endless!
And More!
This just in!  One reader, a girl scout named Emily, found us and shared this information with her troop.  We're glad you found it so useful!
As a way of paying it forwards, she's found some more fun arts and crafts ideas for everyone to enjoy, which can be found here.  Thank you so much!