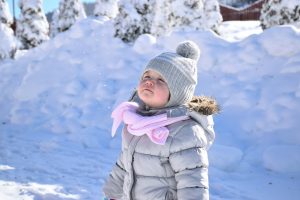 It can be so easy to forget about keeping your kids active in winter. It's dark, cold, and it can seem miserable. But it's so important for kids to exercise, especially as recent studies suggest that almost 80% of children aren't getting enough activity.
1 – Enjoy The Outdoors
It might be cold, but you can still enjoy being outside with your kids. Encourage your kids to go out even in winter to walk the dog, play with their friends or go to the park.
2 – Try A New Activity
Try going to your local indoor swimming pool, indoor sports centre, bowling alley or ice skating rink.
3 – Sign Up For A Class
Many communities have all types of classes for kids to register for. They can keep active, try new things and meet new people. Some classes may offer a free trial session, so you can see what class your kids might enjoy.
4 – Exercise Videos
If you can't find a class for your kids, you can put on a kid friendly exercise video. You can try it with them, keep them active, and stay in the warmth of your own home. You can find some online, or in your local library.
5 – Video Games
Kids love video games, and some of the more recent gaming developments involve some level of physical activity. There's plenty of family friendly game titles available for Xbox, Playstation, and Nintendo. Mobile Apps like Pokemon Go also encourage physical activity.
6 – Everyday Exercise
Kids can exercise without realizing it, simply by doing everyday activities. Chores, and errands, like getting the mail, walking the dog, and going to the grocery store with you, will count towards their daily exercise time.
7 – Limit Their Screen Time
If kids have unlimited screen time then it can be difficult to encourage them to get active. It's recommended that parents limit screen time, including TV, laptop, tablets, video games and computers, to two hours a day or less. Having less screen time will encourage kids to play, or enjoy some type of physical activity.