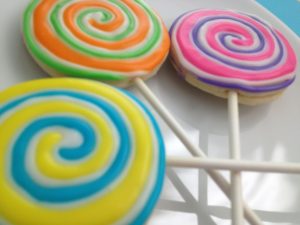 Tired of the same-old, same-old desserts at your latest parties?  Want to give your child's next big event something special?  Here are some great dessert recipes that will give people something to remember!
Gelatin Aquarium
This underwater ecosystem (made entirely of candy, gum, and gelatin) is a party showstopper. It's easier than it looks, too, though it'll still take about 10 minutes per aquarium to make, and they need to chill for a few hours before they're ready.  They won't soon be forgotten, though – and they're great if your party has some kind of aquatic theme.
Get the recipe here!
Fraidycat Cupcake
Have animal lovers in the house?  Then these cupcakes are sure to be a hit.  The one linked here uses chocolate sprinkles (with peppermint pattie ears, licorice whiskers and M&M eyes), though you can vary and mix that up to create a whole range of cat colors and patterns.
Get the recipe here!
Lollipop Cookies
Combining the best of both worlds, lollipop cookies are a surefire hit.  They're much, much, much easier to make than actual lollipops would be, too, which is a real boon for those of us without candy thermometers, special equipment and, to be honest, real baking skills of any description.  Essentially, all that's involved is making cookie dough and inserting lollipop sticks into each one before baking.  A great twist!
Get the recipe here!
Treasure Hunt Cake
Having a pirate or adventure-themed party?  Then a treasure hunt cake is a great way to add flair to the dessert.  It hides little surprises in each slice – gummy candies, specifically – for kids to find as they dig through.  Buried treasure!
Get the recipe here!