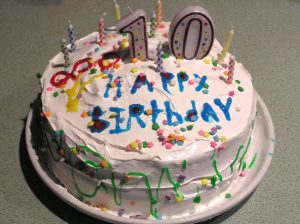 So you want to throw the absolute perfect birthday party.  You want to make sure that you have everything prepared and set up, so that everything goes smoothly, wonderfully and memorably.  This can be difficult at times!  There always seems to be something you've forgotten, requiring last-minute scrambling.  We want to help prevent that!  Here are a few of Kids Fun City's must-haves for planning a birthday party:
The Right Venue
Of course, we're going to suggest Kids Fun City as the perfect venue for a birthday party – with private facility rentals and semi-private rooms, we're the best choice in town!  Even if you choose to host the party elsewhere – say, a public park – you'll want to make sure you get everything prepared ahead of time.  Are there special rules or regulations you need to follow?  Reservations that need to be made?  Check ahead of time and you'll save a ton of hassle.
Invitations
Let's be honest – kids don't look at the invitations.  But their parents sure do!  A proper invitation should have all the information parents need to plan for their child to attend – the location of the party, drop-off and pick-up times, any sort of theme that is involved, whether or not presents should be given, and so forth.  It doesn't matter if they're physical invitations or e-mailed ones, but a full invitation is a must to avoid party problems!
Great Food
We've covered this before, but great food can make or break a birthday party.  Ideally, you should have some healthy things in the mix (crunch vegetables with dip is a great choice), but it's a party.  If there was ever a time to bust out the cake and ice cream, this is it.  Of course, the flavor of the cake should be decided by the birthday boy or girl themselves!  For a larger party – or a party with several picky eaters – getting two smaller cakes with simple flavors (chocolate and vanilla) is a good idea.