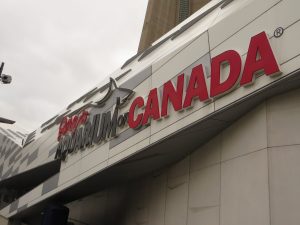 Of course, we're massively biased.  We think the absolute best place for families to spend an afternoon in Toronto is at Kids Fun City, the best indoor playground in town!
That being said, even we realize you're not going to spend every day with our thrilling arcade games and exciting mini-golf course.  Toronto's a big city with a huge variety of things to do.  When we're not enjoying our tube slides, here are some of our favorite family-friendly places to check out.
This indoor aquarium is always a sure-fire hit with kids; it never gets old!  The Discovery Center is especially great for kids, with touch tanks featuring bamboo sharks, horseshoe crabs and stingrays.  There's plenty of fun educational activities, as well as a play area and slide if kids get bored – but, in our experience, kids love checking out the wide variety of aquatic life the aquarium has to offer, from colorful lobsters to giant octopi.  It's a perfect way to spend a couple of hours downtown.
If your kids are less into live animals and more into things like dinosaurs and knights in armor, then the ROM is definitely worth a visit.  The ROM features the CIBC Discovery Gallery for kids 12 years and under, with activities to help them explore what the museum has to offer (trying on costumes, digging for dinosaur bones, looking at fossils, etc).  In the museum proper, there are amazing displays of fossils of dinosaurs and early mammals; beautiful artwork from a variety of cultures, both in and outside of North America; amazing meteorites and gems and much more.   Your kids probably won't like everything the museum has to offer, but with three floors, they're bound to find something that catches their eye.
Alright, I admit it – I'm a sports nut.  I've been a sports nut since I was a little kid, but I never actually got the chance to visit the Hockey Hall of Fame until I was grown up.  That's too bad!  Young Maple Leafs fans will get a kick out of the interactive exhibits, getting to see the Stanley Cup up close and in person, and all the great and colorful exhibits of the great players and events throughout hockey history.  Plus, maybe one of these years the Leafs will win again, and that would be nice, right?  Right?  Well, we can dream.