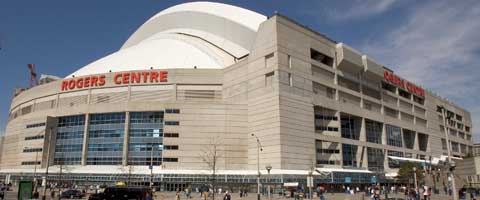 We got such a great reception for our last list of fun things to do around Toronto that we're doing it again!  Toronto is filled with fun activities and events to do for the entire family, and some of them are almost as good as Kids Fun City!
Almost.  It's close.
Here are some more of our favorite places to go when we're not at Kids Fun City:
To be honest, we still call it the SkyDome.  Whatever you call it, though, there's always great things going on at the Rogers Centre.  Watching the Blue Jays is a great way to spend an afternoon, especially when the Orioles or Red Sox come to town.  There are tons of giveaway days with shirts and bobbleheads and other prizes for going, and kids under 14 can run the bases after Saturday games, which is a fun experience.  The Rogers Centre also regularly holds concerts and other special events, many of which are fantastic for kids.
It's hard to argue with going to see a castle, especially if you have a young princess or knight at home.  Casa Loma is a really neat building, complete with secret passages and tunnels, horse stables, awesome antique cars and much more.  The five-acre gardens and trails are a blast, as well.  It's a great option for bigger kids and tweens, especially if you want to give them a bit of a history lesson at the same time; there's a reason Casa Loma is a common destination for school trips.  If your kids are interested in history – or, at least, shiny and fancy things – Casa Loma can be a fun day trip.
Toronto Zoo is fantastic; a world-class zoo that is great for animal lovers of all ages.  The pandas, of course, are the centerpiece attraction, but there's a huge variety of different kinds of animals from all over the world; some of them are bound to attract your kids' attentions!  They also have a great Discovery Zone, including the Kids Zoo, specially designed for young children to meet face-to-face with some of the more domestic animals (alpacas, goats, rabbits, etc.).   For hot summer days, they also have Splash Island, a two-acre water park.  It's a place to come back to again and again.